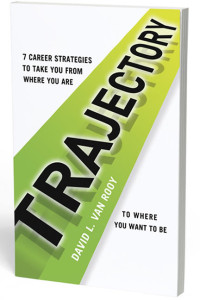 Trajectory is available now! Get your copy today.
When the economy's difficult and jobs aren't secure, people tend to focus on the short term …on survival. But what they don't grasp is how their current position could be a springboard to their next position – or even the one after that. Caught between a fear of failure and a desire for instant success, they limit the risks they take, unwittingly limiting their opportunities. As much as they want to get ahead, they simply can't see how to get there. Trajectory is the answer. Each and every person has their own "trajectory" or career path – and this timely and refreshingly practical new book presents seven strategies designed to help anyone create and manage theirs. Career success doesn't happen overnight. From building relationships with mentors, to positioning (and repositioning) yourself for advancement – this essential guide will provide you with the tools you need for a lifetime of advancement.
In Trajectory you will learn about:
The Concept of Trajectory
The Power of Feedback 
Persistence as a Differentiator
Thinking Big, Acting Small, Moving Quick 
Breaking Through Plateaus 
Avoiding the Stagnation Trap
Achieving Growth from Failure
Sustaining Outlier Performance



Trajectory is published by AMACOM, the publishing arm of the American Management Association.